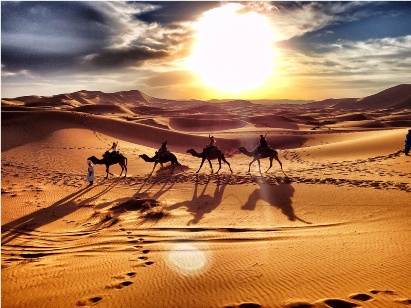 Excursion to Merzouga
Merzouga is a village in the Sahara Desert in Morocco, on the edge of Erg Chebbi, a 50km long and 5km wide set of sand dunes that reach up to 350m high. Most people are here to take a camel safari into the dunes, and to get a taste of remote (tourism-influenced) Amazigh life.
The program of this excursion will include:
- Dromedary ride
- Appreciate the beautiful sunset and sunrise
- Accommodation and dinner in the desert
- A spectacle of music percussion will be presented after the dinner
- Breakfast.
We will leave Errachidia to Merzouga on Friday 28 April in the afternoon and we will come back to Errachidia on Saturday 29 April.
The excursion to Merzouga is not included in the fee. The price is 500 MAD (50 EUR).